The best designer handbags and their dupes (because we've all got to start somewhere)
There are some mightily beautiful bags out there. There are also some mightily beautiful bags out there that cost half a year's rent, that make you sigh as you begrudgingly pin it to Pinterest and stick in a mental box labelled 'aspirational'. It's in there with a loft apartment, velvet couch and a dog.
If you like the finer things in life but don't have the budget for it, I got you b. I've done some research on the bags you've seen literally everywhere this past year and found a few high street dupes, which'll set you back less than £100 rather than £1000. Be free, my sartorial children.
Cult Gaia Ark Clutch Bag
This bag has been having a moment for a little while and I love it, mainly because the bamboo makes me super nostalgic for the Philippines. Yes, it's a) impractical with gaps for things to slip through and b) totally see-through but fashion doesn't always make sense. Although they now have rainbow and darker colour ways, this natural bamboo one is what everyone first fell in love with and it's nearly sold out everywhere.
ASOS wanted a piece of that sweet Cult Gaia pie and made their own boxier version, also in the same natural bamboo shade for just £35. AAAND it's sold out, I swear it was in stock yesterday. But they have a dark rainbow version still up on the site, if you're feeling that.
Also holy shit, I literally found an exact dupe of the Cult Gaia bag on ASOS. Like, that's literally the same bag isn't it? Have I accidentally found a lawsuit?
J.W. Anderson Pierce Bag
It took a while for this to grow on me and then when I saw it in cobalt blue, I finally got it. Described by an acquaintance on Facebook as a septum piercing bag, they pretty much nailed the Pierce in a nutshell. It's everywhere at the minute and I've seen it mostly slung crossbody at fashion week.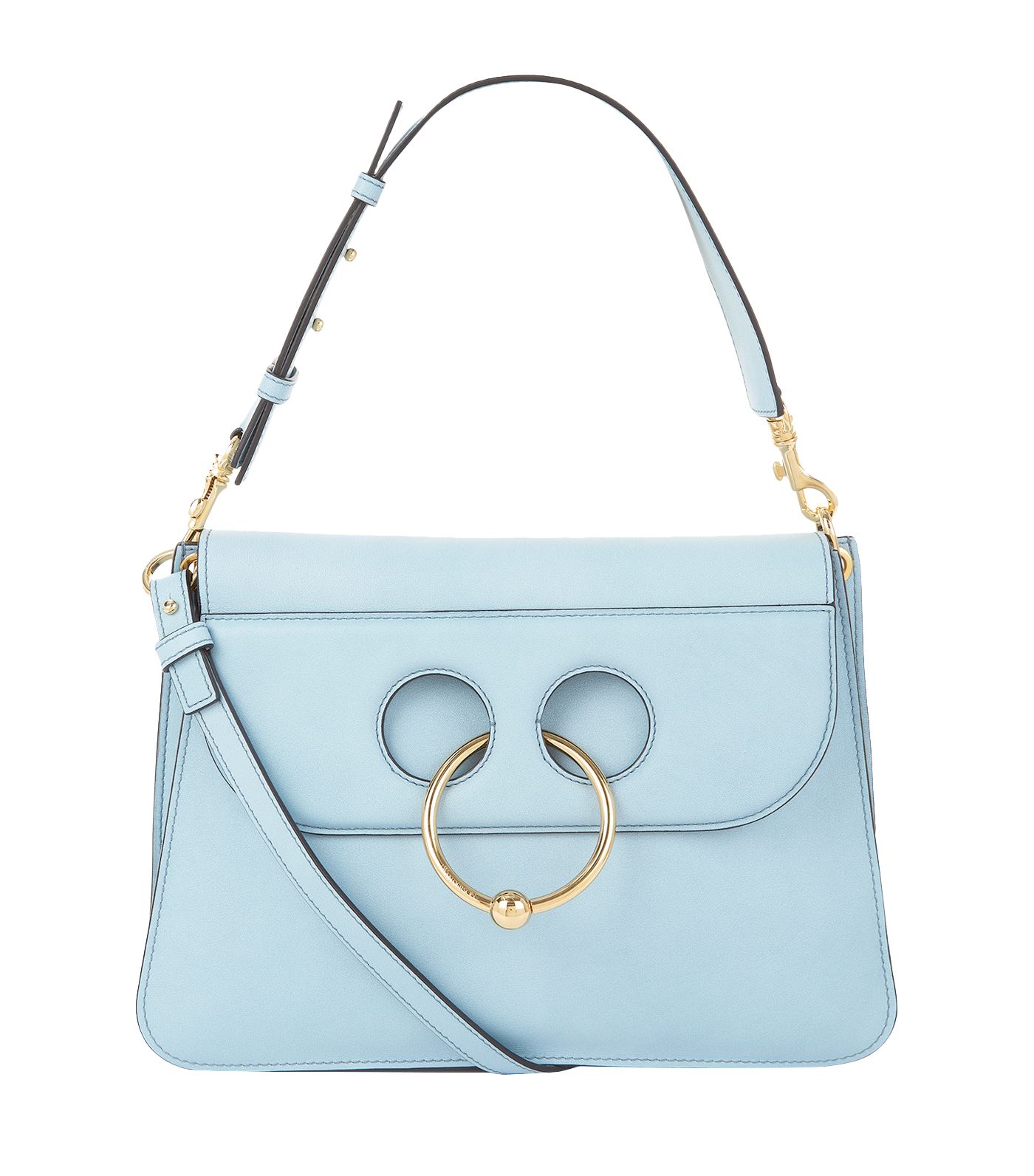 J.W. Anderson Medium Pierce Bag
Oh boy, so onto the dupe. I stumbled across this site Jessica Buurman while researching and it is literally just fake-city over there. They've got the Staud bucket and the Simon Millier on this list, plus that BOYY buckle bag and my head is spinning - is this their whole business model? I mean, this is the most convincing Pierce dupe I've seen. I've never ordered from them before, so do your own research before buying buds.
DEREK Ring Embellished Tote Bag
Gucci GG Marmont Belt Bag
If I ever had cash to burn and could buy a bag I knew wouldn't last the season, it would be this one. I'm 100% here for the bum bag trend (I've had the phrase 'fanny pack' trained out of me in the UK since - uh - that means something different here) and I've seen a lot of people running round with this quilted GG Marmont, mostly in black. I get it, it's got a steep price tag so I guess people are going for the more versatile colour.
Gucci GG Marmont Belt Bag
I made peace with the fact that I'd never own one of these a while ago, so instead I actually went out and bought this dupe from Topshop. I have something of a love affair with yellow, so I naturally scooped that one up but it's now only available in green and black below.
Staud has been killing it on the cult bag front and it's easy to see why. It was a toss up between featuring this or their on trend transparent Shirley Tote (which was seen everywhere this past fashion week), but this quirky bag won out. Serving hanging planter chic, it's a macrame and leather combo that you'll have to jump on a wait list for.
The team at Mango clearly freaked out when they saw it because they made a mightily similar replica. In all honesty, theirs is actually more practical because it's got a drawstring closure rather than a gaping hole. If you're not feeling the macrame, Charles & Keith also have a version without it.
You knew a straw bag was going to make it on this list somewhere. This bag's been in all the magazines recently and it's gigantic, making it the perfect beach bag or Hermione bag if a small purse just won't do it for you. Loewe's been having a major moment in general to be honest, their Puzzle Bag* and Knot Bag* have also been doing pretty well amongst the street style pack.
£373 at Saks Fifth Avenue
Oh hey White Company, I see you. While this bag's missing the big Loewe square on the side, I think skipping out on the couple £200 tag that comes with it is a good trade off.
Double Handle Straw Basket Bag
Simon Miller Bonsai 20 Bucket Bag
As far as designer handbags go, it's been bucketing down for a little while. Simon Miller leapt onto the scene with his mini buckets a couple of years ago and his more practical-sized ones have garnered a cult following this year. I've been seeing this tan and tortoiseshell baby around quite a bit, though there's also a deeper brown with a silver ring version* that's also been inching in on my feed.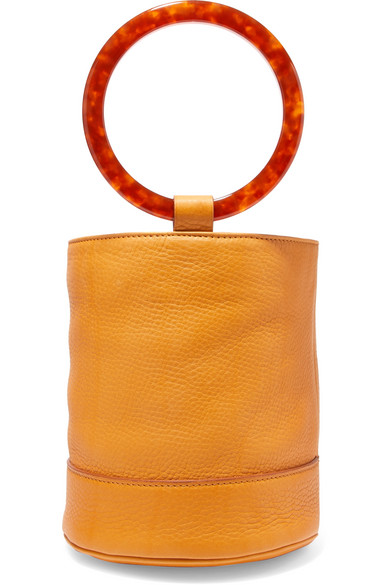 Simon Miller Bonsai 20 Bucket Bag
I found a pretty cute transparent dupe on...Romwe. I know, I know. Ordering from Romwe is like playing with fire. But it's only £8 so why not jump in. Plus, it's pretty similar to that sold out Staud Shirley Tote if you couldn't get in on that either.
Clear Wooden Handle Ring Bag
Again another toss up between the Pixie and the Nile, but we've had a lot of bag with metal ring hardware up in here so I went with the Pixie. This bag was already a hot ticket item, then Meghan Markle wore it and things spiralled out of control...now here we are. There's been a lot of brown in the gallery, so I went for a millennial pink version below.
Chloe Pixie Leather and Suede Bag
Okay this Dune piece ain't a circle, but it's true to the spirit of the Chloe bag with the interplay of suede, metal and leather. I'm getting very tired trawling through the internet, please throw me a bone here and let me have this one.
Dune Women's Dorseey Circle Handle Tote Bag
OKAY, I'm exhausted now. I'm gonna go take a nap or something because that was probably the most research I've done since my dissertation.
*Disclaimer: all links with an asterisk are affiliate links, which means I get a little cut if you buy something through that link.