Satin skirt outfit inspiration: Four looks that got me through the midi trend
Disclaimer: this post contains gifted items, which have been disclosed.
One day at work, I walked into a meeting with four other women who were wearing satin midi skirts.
What was I wearing that day? A satin midi skirt. It's a thing, y'all.
The satin skirt trend is one that just doesn't seem to want to die and honestly, I was pretty apprehensive about jumping on the train at first. A few months ago, I feel like the world woke up and everybody on Instagram decided they all had to have a leopard print satin skirt from Par Realisation - which has pretty much been sold out ever since.
Satin clings and I initially wasn't so hot on the idea of having to a) dodge that VPL like no tomorrow and b) deal with the fact that the skirt would probably highlight my little tummy pooch.
After a while though, I eventually came around to the idea when I found this truly incredible neon green satin skirt from ASOS - which is sadly sold out now. Eventually, I learned to style it for my body/stopped giving a shit about the way it looked on my body and I was kindly gifted a second one from Mango; which is covered in tie dye and is probably one of the coolest things in my closet RN.
Here's a few ways I styled mine for inspiration…
The big chonky sweater
The weather's much warmer now, but back when I got my bright green skirt it was still deathly cold. (In fact, the day I took this outfit it rained, hailed and was sunny in the space of just a couple of hours.) By wearing this big old hygeriffic jumper, I feel like it really drew attention down to the slinkiness of the more tapered skirt.
I also loved that the neutral shade of the top balanced out the brightness and brought it into more sophisticated, office-appropriate territory. I'm not always buzzing just like neon, John Mayer.
Outfit Details: Brown Massimo Dutti turtleneck sweater, ASOS neon green satin skirt, black heeled boots, eBay hair clips
The lazy day tee
There are some days you wake up and you're defeated by your period, or hungover as hell, or probably got to sleep too late and the satin skirt has saved me many times; keeping me looking relatively put together even though I may feel on the verge of death. On this day, I had maybe all of four hours of sleep but I still wanted to look good for my boy Tan France as we were seeing his show - so I paired this loud skirt with a tee that picked up the colours of the tie dye pattern, as well as some ugly chic trainers.
Naturally, I also did the French tuck. Love me, Tan France-senpai.
Outfit details: My brother's brown jacket, Mango tie dye skirt (gifted), Moschino trainers (gifted), Monki slogan tee (gifted)
The crop
More often than not, I try to wear the brightest colours I own all at once and I went all out for Comic Con. While this Sailor Moon tee isn't technically a crop, I tied it in the back and turned it into a feeble one - drawing attention to my waist and keeping things young cause I'm still down with the kids.
Outfit details: ASOS neon green satin skirt, Sailor Moon tee and earrings from Argyle Centre
Sling it low
While I usually wear my satin skirts up on my waist, I hiked it further down for this shoot with my beautiful queen and photographer friend Gabriella Salonga. Low rise hemlines are (unfortunately) coming back and there's nothing we can do about it, so I decided to gracefully go with the flow rather than be dragged along by the trend kicking and screaming. I also went with a gold sparkly vest which I accidentally shrunk yet again in the wash to really take things into the 90s.
Outfit details: Mango tie dye skirt (gifted), & Other Stories bucket hat, Dune London sandals, Guy Laroche chain necklace and basket bag from the Philippines
Ready to try the trend out yourself? Here's a few options…
Satin Bias Cut Midi Skirt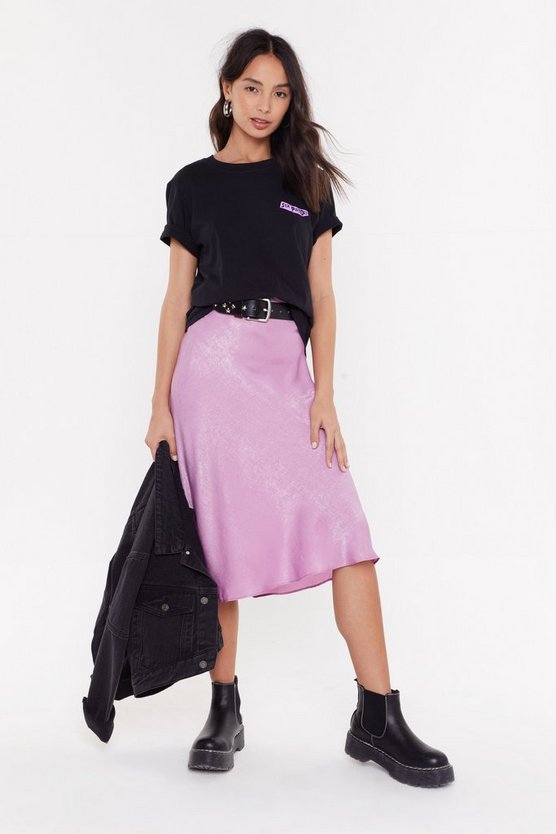 Nasty Gal Sleek Havoc Bias Cut Satin Skirt
If you hop onto Nasty Gal right now, basically everything is on sale. They have literally millions of satin skirts there right now in every colour and print you can imagine, so they're a good port of call if you want to dip your toe into the deep end without spending big bucks.
Priced at £15, available at Nasty Gal
Satin Leopard Print Skirt
Par Realisation Leopard Naomi Skirt
Realisation's Naomi skirt is basically one of the things that kickstarted this whole thing in the UK and it's been a titan ever since.
While the leopard-print one is an undeniable classic, they've also dropped it in five other prints from summery daisies to loved up hearts.
Priced at £175, available at Realisation Par
Monki Satin Midi Skirt in Peachy Waters
Is it a megchills approved article if there isn't at least one piece from Monki in it? I'm mega into this trippy piece which is a blend of pastels with a print inspired by traditional Japanese woodblocking.
Also side note: there's a mega resurgence of Asian-inspired prints all over the place which makes me incredible homesick all the time. If somebody tries to tell you they're 'oriental', you point them my way and I'll throw a slipper at them.
Priced at £30, available at Monki
While Topshop once had millions of bog standard satin skirts, they've deviated on the silhouette slightly with these fun asymmetric wrap styles. I'm really into this mixed scarf print one (and not just because it's on sale).
Priced at £45, available at Topshop
Tie Dye Skirt professional photos taken by the quintessential Gabrielle Salonga.