Happy Year of the Dog! Now let's spend some money.
Kung hei fat choi! We're well and truly into the Year of the Dog now and I hope you got enough lai see to buy that stupid thing you've been coveting for ages, but finally have the money to justify spending. (Concrete plant stands and blanket ladders, here we come.)
I jumped into the traditions behind CNY in my Chinese New Year outfit post and this gallery delves into one of them: buying new clothes for the year to come and revamping your wardrobe. A lot of stores are introducing their SS18 collections as February peters out which is super exciting, plus other brands like Gucci above are introducing special Year of the Dog capsules - meaning there's loads of fun new stuff to choose from.
I've put together my fashion favourites this February while sticking very, very loosely to the red and gold colour palette. I've also chucked in a couple of fun Chinese New Year-related extras below. I'm feeling generous today.
Two Tone Crossover Bodysuit
£29.99, Zara
I know that pink and red isn't for everybody, but ugly chic is basically my whole brand. This bodysuit speaks to me on a spiritual level. I had a similar navy American Apparel one back at university and this feels a lot more like the grown up girl version.
I've been seeing it this clashing colour combo a lot on SS18 runways - Lanvin and Emilia Wickstead were big favourites.
£14, Goods of Desire (G.O.D.)

These scarlet candles are a G.O.D. classic and every time I poke my head in there, they always catch my eye. There's no time like the new year to stock up on as much good fortune as you can and these double happiness character candles are a chic way to do it, rather than sticking up some posters.

Let's be real though, these would probably just sit on my shelf and I would NEVER BURN THEM. Ya girl needs all the luck she can get right now.
£12.99, Mango

I'm not huge on jewellery, but my ethos is normally go big or go home - and these asymmetrical earrings from Mango definitely fit the bill. Mango's been killing the accessory game recently and these big dangling knockouts only reaffirm it.

I'd probably wear these with a relatively minimal outfit and strike out all the other accessories. These are such statement pieces that you gotta give them their time in the sun.
Rouge Pur Couture Le Rouge
£28, Selfridges

I was gifted a YSL red lipstick years ago from an aunt and it's ruined every red lipstick for me ever since. YSL's stuff is just so pigmented and they do reds like nobody else, whether you're going for this classic firetruck red in Le Rouge or something deeper like Rouge Feu. The gold case is bang on point for Chinese New Year and its reflective, so you don't have to run around to find a mirror which is handy if you're reapplying.

IN ANY CASE, the price tag is steep but I used mine until there was literally nothing left and mourned.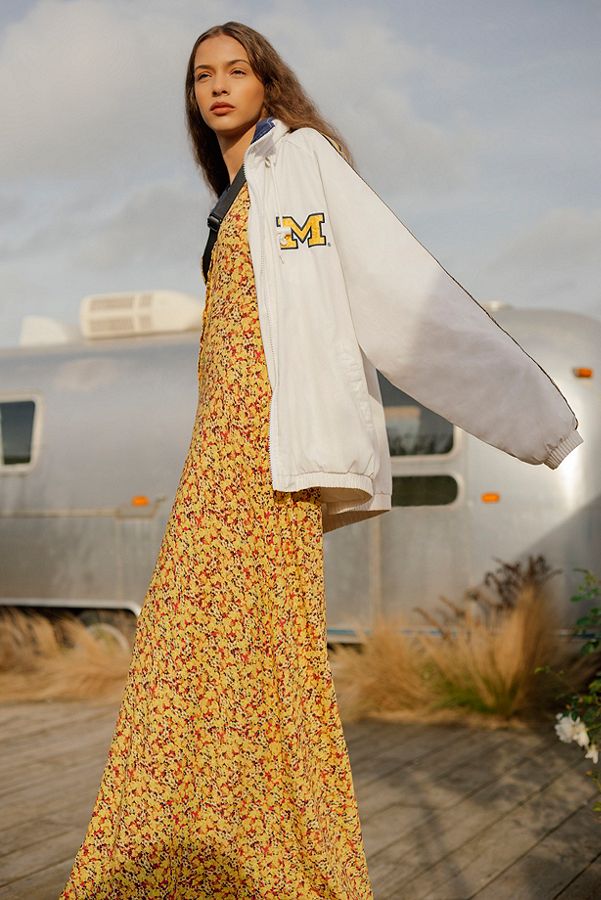 £59, Urban Outfitters

I have an Urban Outfitters problem and this charming yellow and red maxi is not helping matters. I love the laid back way it's been styled on the site with trainers and a lazy jacket and to be honest, I'd probably take a similar route.
Give me a pair of clean white sneakers, a baseball cap, a slouchy charity shop coat, orange-red lipstick and we're onto a winner here.
£12.60, Kitty N Wong

I've been a fan of Kitty's illustrations since I ran across them at a cute little art pop up in Sheung Wan and this special CNY print has arrived just in time for Year of the Dog. It comes in both A3/A4 sizes so it'll fit easily into an Ikea frame if you're low maintenance like me, plus there's a white background version too if you're sick of millennial pink. (Never.)

Can we just talk about those thigh high stiletto boots? Yes. Girl.
£148, Mischa

Way back when I was working for Sassy Hong Kong, we did a lot of work with a local brand called Mischa that I still can't stop thinking of. This is their classic bucket in their signature kimono-inspired print and I'm obsessed with the pop of red.

One day, I will buy a Mischa bag. (And if you ever read this Mischa, please hit a girl up when Oak is back in stock.)
Want more Chinese New Year inspiration?